About Us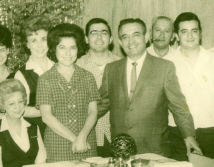 After his discharge from the Navy in 1947, Joe Luciano, traveled to Corpus Christi to visit his in-laws, Vince and Angela Ruscelli. His wife, Mary, had been staying with her parents in Corpus Christi while Joe was in the service. The Luciano family business had actually began just two years before when the Ruscellis opened a small short-order cafe called
"The 8 Ball"
at 718 Peabody.
Due to health reasons affecting the Ruscellis, Luciano agreed to stay and enter the food service business. In 1949, Luciano and his brother-in-law, Al Ruscelli, changed the business to an Italian food restaurant and named it "Vince's." Joe and Al handled all the cooking chores. The small restaurant started to thrive on family recipes that Luciano and Ruscelli brought from Italy.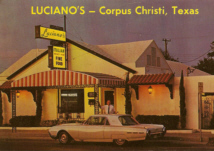 That same year, at the insistence of the Navy personnel who frequented the restaurant, Luciano introduced pizza to the menu.
Luciano's officially opened in 1964 when Joe sold his interest in Vince's to his brother-in-law and purchased the old El Patio Restaurant at 1618 S. Staples near Six Points. In 1974, Luciano, who was seeking semi-retirement, persuaded his son-in-law and daughter, Bill and Linda Swanson, to buy the restaurant. The family left the business in 1989.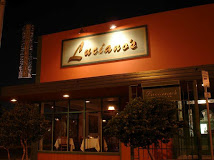 In 2000, Charlie Swanson, grandson of retired founder Joe Luciano, reincarnated the family business at its present location at 1821 Alameda in Six Points. The year 2012 found Luciano's under new ownership and management that is still carrying on the tradition of authentic Italian cuisine first started by restaurateur Joe Luciano. Along with appetizers, soups, salads, desserts, and an extensive list of red and white wines, the menu offers 25 entrees, and includes customer favorites such as Chicken Tetrazzini, Baked Salmon, and Shrimp Lancianese, which is named after the town in Italy where the Luciano family is from.